Phase Appropriate Analytical Method Validation
Welcome to part two of our Analytical Strategies from Early Development to Validation blog series. In part one of the series, we discussed the purpose of analytical method development and validation and broke down processes for each clinical development phase. In this article, we will explore the second part of the process, analytical method validation.
Our team recently recorded an online presentation that details the analytical strategies that support CMC drug development from the preclinical phase to commercial production which you can view by going to our website. In this article, we summarize the second part of that presentation.
The Purpose of Analytical Method Validation
Analytical method validation (a protocol-guided activity) ensures that a test procedure is accurate, reproducible, and sensitive within a specified range based on the application of the method. Through close evaluation of performance characteristics against pre-approved acceptance criteria, analytical method validation assesses an analytical method to demonstrate its suitability for the intended purpose.
Relevant terms that you'll want to understand related to method validation include:
Method Qualification: shows that a method is suitable for use based on the evaluation of specific performance characteristics. Method qualification is a term often used to describe methods that have been proven scientifically sound and appropriate for early phase drug development (i.e. pre-clinical, Phase I).
Method Verification: a guided demonstration that proves a compendial method is suitable for use in a particular environment or quality system (i.e. equipment, people, facility, etc.).
Method Transfer: a process in which an analytical method is formally moved from a sending laboratory to a receiving laboratory. A method transfer is similar to a method validation, but also includes comparative assessments, and criteria demonstrating performance between laboratories. (See USP <1224>)
Method Validation Performance Characteristics
Specific analytical performance characteristics (APCs) of a method have been identified by ICH and need to be assessed with respect to method validation. These APCs include the following:
Specificity
Sensitivity (LOQ/LOD)
Accuracy
Precision
Linearity
Range
Robustness
The Overall Process For Method Validation
Once development is performed, and the method has proved to be scientifically sound, (i.e. a Qualified Method) the test method (TM) should be documented. Next, a validation protocol is authored based on the Test Method that includes further evaluation of the APCs against set criteria.  Following the approval  of a validation protocol, the experimental work will be performed in the lab, and ultimately summarized in a Validation Summary Report that tabulates the data, summarizes the outcomes, and reports the conclusion. After approval of the summary report, it's common practice to promote the method with the company's quality system in some way to indicate the method is validated. At Regis, a validated analytical test method is promoted from TM to STM, making it clear in the specifications that the method is validated for its intended use.

The Importance of Validation During the Development Process
Validation plays a crucial role in the development process. Not only does it provide confidence that a method is accurate, reliable, and scientifically sound, but analytical validation is a FDA requirement for all drug substance and drug product analytical procedures. When validating a method, some considerations to keep in mind include the following:
Regulatory Guidelines: Some examples are ICH Q2, Guidance for Industry: Bioanalytical Method Validation, USP Chapters, 21 CFR 211.194, and various reputable publications.
Specifications: This can help show that a method is suitable for its intended purpose.
Why do Sponsors Phase Analytical Validation
Over the course of drug development, sponsors and CDMOs are gathering data in a systematic approach to ensure that clinical candidates are safe and effective. The same can be said for the manufacturing processes and the analytical methods used. As clinical candidates progress through drug development, processes are improved, scaled and optimized. In an industry where only a small portion of clinical candidates are approved, phasing analytical validation offers a cost-effective risk mitigation strategy generally accepted as fit for use at each stage of development.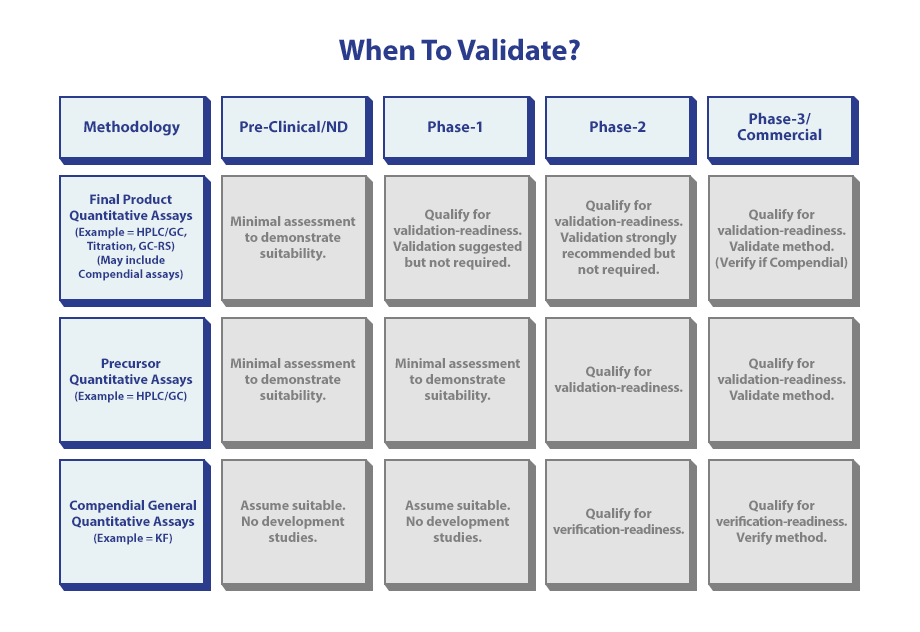 When to validate is based on the methodology and the current phase of development.
Using Phase-Appropriate Validation Approaches
In early-stage development, patient safety is the primary focus, and the goal is to appropriately characterize a drug to establish an impurity profile that can be qualified through initial safety studies (i.e. toxicology, PI). At this stage, the analytical methods must be specified and scientifically sound to ensure that the drug profile can be replicated and later compared to understand whether or not the profile of the new lots of drugs are representative of the established toxicology profile. At minimum, a qualified method should be developed along data collected demonstrating the methods are capable.
As the drug progresses into the clinical stages of development, more certainty is necessary to properly assess the safety and begin to support efficacy studies. At this stage of development, a Phase-Appropriate Method Validation is performed to ensure methods possess the necessary Specificity, Sensitivity (LOQ/LOD), Accuracy, Precision, Linearity, and Range in the environment where the drug is being produced. Recognize that at this stage, the manufacturing process is still changing, and revalidation often occurs to accommodate process changes (solvents, process related impurities, etc.). Bridging studies can be undertaken to address new reportable impurities with regards to method performance.
As a drug approaches late-stage development and registration, it is important that all the methods used to characterize the drug substance and drug product are fully validated, but also begin to evaluate intermediate precision and robustness to ensure the variation in the test environments will not significantly impact method performance. As a deeper understanding of how impurities are controlled through input materials, as formed during critical process parameter studies, method validation should be performed for starting materials, intermediate, and in process control methods.
After all methods are validated and the PPQ is complete, validation should not stop. Method performance should be monitored and trended to ensure that the validation is maintained in a state of control. Statistical approaches can be applied to assess outputs taken from system suitability experiments and test results.
Factors That Determine Validation Criteria
There are numerous factors that go into determining validation criteria. Some of the main factors include regulatory guidelines, (ICH, USP, FDA.), method application and limitations, standard operating procedures, statistics, and specifications.
What to Expect When a Method Has Been Validated
Once a method has been validated, there are some essential steps that need to take place. The method will need to be transferred from analytical development (AD) to quality control (QC) for routine testing. This is done through comparative testing, co-validation between two or more laboratories, or the validation may be  repeated partially or fully.
Conclusion
Analytical development and validation are crucial to the success of all synthetic processes. Phase-appropriate analytical strategies deliver cost-effective solutions that manage risk and preserve confidence with regulators during the review of INDs and NDAs.
If you have additional questions about analytical strategies and would like to speak with an expert at Regis Technologies Inc. please contact us.  Our team would welcome the opportunity to speak with you and can provide additional clarity and guidance.