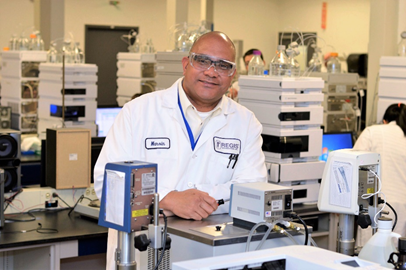 Impurity isolation and identification in active pharmaceutical ingredients (APIs) and pharmaceutical drug products (DPs) is a critical aspect of the development process.
The need to meet the quality guidelines outlined by the ICH (International Conference on Harmonisation) and adopted by regulatory agencies worldwide would be the most obvious reason. But strong and early impurity control also makes good business sense.
Why?
Because impurities can have significant negative consequences for your product during drug development and beyond.
They can complicate formulation, lengthen your development timeline, and impact the shelf life due to growth of degradation products.
Unqualified impurities, even at a very low level, may pose unknown health risks to patients who use your finished pharmaceutical product.
It would be costly to reject batches during the development process. But when previously undetected impurities come to light after approval – that can lead to massive product recalls and potentially endanger patients.  For example, the recent incidents of nitrosamine impurities discovered in Angiotensin II Receptor Blocker [ARB] APIs led to massive global recalls. It is far better to detect, identify, and control impurities as early as possible.
Take Proactive Steps to Control Impurities
Impurity formation needs to be understood and then controlled during development and follow-on scales. Identification of impurity formation early in development can avoid complications at later – and more costly stages. Specific steps include:
evaluating starting material purity.
minimizing impurity levels in synthesis and manufacturing processes.
identifying impurity structures.
isolating and synthesizing impurities for qualification in toxicity studies.
monitoring the stability of APIs and DPs to detect degradation products.
The fastest and least expensive way to identify potential impurities is to work closely with your contract development and manufacturing organization (CDMO). They have the expertise to isolate and identify impurities and the process knowledge to quickly solve any problems that turn up. They also have extensive chemistry and route scouting knowledge, and access to the intermediates, mother liquors, filtrates, and other resources that may be needed to find an appropriate solution.
We've found that project phases based on a holistic approach to impurity identification provide the fastest and most cost-effective results. At Regis, for example, this is accomplished through close cooperation between our analytical chemistry and process chemistry teams.
We also use Luminata software — an enterprise-level environment designed specifically to manage impurity data — to keep track of impurity fate and purge studies, and track batch and project history.
How the Process Works
A project phase-based holistic approach consists of different activities which occur at different stages of a project.  At an early stage of drug development, our analytical and process scientists start by examining the chemical process and advising of any potential impurities. These may be caused using specific solvents or reagents, or by the sequence of the chosen synthetic route.
Because the synthetic routes are typically not locked in during early development, optimization of the reaction conditions to minimize impurities – especially potential genotoxic impurities (PGIs) – provides the most benefit to the project.  Controlling the impurity profile and understanding the relationship between synthetic reaction conditions and the changes in the impurity profile are evaluated during this stage.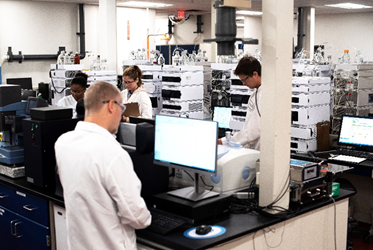 For later stages of drug development, all impurities in both APIs and DPs that are above the identification and qualification levels need to be addressed.  Regulatory guidance determines the acceptable level of an impurity based on animal toxicology studies, in-silico evaluation, potential toxicity, and the maximum daily dose of the API in humans.
The first step of impurity control is to obtain an accurate and reliable impurity profile of the API or DP.  A good stability-indicating HPLC method is essential. The method should be specific, with all impurities well separated from each other and not hiding beneath the principal API peak.
Impurity Identification
Impurity profiles for each step of the synthetic route should be tracked and managed by data management tools such as Luminata software. When necessary, teams modify the analytical method according to the specifics of any impurities. For example, liquid chromatography/mass spectrometry (LC/MS) may supplement HPLC (high performance liquid chromatography) to obtain the mass spectrum of each impurity of interest.  A liquid chromatography high resolution mass spectrometry experiment can quickly obtain information on each impurity.
Next, analytical and process chemists work together to screen high-resolution mass spectrometry (HRMS) software matchings to narrow down the number of meaningful structures related to the reaction. This fast and agile approach typically significantly reduces the number of suspected structures. To further confirm the impurity structure, isolation of the impurity via preparative HPLC or SFC will be performed to obtain sufficient quantities of the impurity for NMR analysis.
These results and the proposed impurity structures are often cross-checked by synthesizing the potential impurity using orthogonal structure confirmation. This increases the confidence of the proposed impurity structure and is often required as part of an NDA (New Drug Application) filing. Gram-scale synthesis of each impurity may then occur – if required – for Good Laboratory Practices (GLP) toxicity qualification.
Storage and Stability Analysis
Storage and Stability Analysis are very important parts of the overall impurity control strategy. Impurities not only arise from API synthesis processes, but may also increase during API and DP storage. New degradation products may be discovered in the later stages of drug development. This can cause significant complications with DPs due to API interaction with the excipient matrix or container closure materials – even at very low levels.
Identifying potential API or DP stability issues should occur as early as possible during development. Typically, well-designed forced degradation experiments are used to generate impurities known as degradation products. Once any degradation product formation pathways are discovered and understood, the development team can adjust the DP formulation, packaging, or storage conditions to minimize its impact.
Taking Advantage of Integrated Impurity Control Processes
Once impurities are identified, we ensure that the analytical team has a feedback loop to the process chemistry group. The exact steps vary depending on the specific challenges of the project.
For example, cross-group communication could influence the chemical process or the starting material supply. But regardless of the specific process, collaboration the is key to designing a reproducible solution.
In this type of collaborative environment, the analytical team has immediate access to the intermediates, filtrates, and post-crystallization solutions. In addition, our synthesis team can generate most impurities at the gram scale, if needed for analytical work as spiking references for analytical method development. Accurate impurity profile tracking is provided by high-quality analytical development and quality control departments.
While it's possible to have impurity identification performed solely by analytical chemists without process chemistry collaboration, our analytical team finds that everything flows far more smoothly when they are able to work directly with the process chemistry team.
At Regis, both the analytical chemistry and process chemistry functions coexist at the same location. This has a huge positive impact on managing impurities in APIs and DPs.  In those stand-alone impurity ID projects, it typically takes a longer time to obtain required synthetical process information from the clients. In these cases, some process intermediates and mother liquors necessary for a comprehensive analysis may not be available. Our experience suggests that the more collaborative approach detailed above is faster, more accurate, and less costly in both the short and long term.
Streamlining the Process
Time and again, the holistic approach we've described above has proven to be the fastest and least expensive way to identify and manage impurities, minimizing roadblocks across the drug development cycle.
We have also streamlined this process even further by taking a multidisciplinary approach — integrating our chemical manufacturing and analytical teams in the same facility and encouraging cross-team collaboration.
Regis brings a high level of chemistry process development skill to the table. Our team includes analytical chemists with deep experience in method development and purification, as well as structure elucidation. At all stages, teams are supported with the state-of-the-art instrumentation they need for efficient and accurate impurity identification.
Learn more about Regis Technologies' Impurity Services, or contact us today.
Also, check out a video by our scientists on Impurity Control During API Development.