Earth Day is coming up soon, which means we'll see a focus on how companies are trying to do their part to be environmentally friendly. Businesses worldwide are implementing green initiatives, and those initiatives may look quite different depending on the industry. In some sectors, going green means installing solar panels. In our chemistry world, green chemistry means making a switch to techniques such as supercritical fluid chromatography (SFC).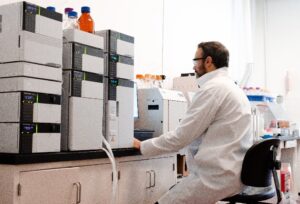 Supercritical Fluids Instead of Liquid
Supercritical fluid chromatography (SFC) is a type of normal phase chromatography, designed much like high-performance liquid chromatography (HPLC). It uses pumps and columns to separate the different components of a complex mixture. The difference lies with the mobile phase. HPLC uses pressured liquid, whereas SFC uses a supercritical fluid.
Supercritical Fluids – What Are They?
A supercritical fluid is the phase of a material where both critical temperature and critical pressure are achieved, also called the critical point. When the material reaches its critical point, it can no longer transform from gas to liquid or vice versa. In essence, supercritical fluid behaves like both a gas and a liquid, combining the benefits of both phases. In SFC, the most common gas used is CO2.
HPLC and SFC were both introduced around fifty years ago. Interestingly, HPLC became a lab staple while SFC traditionally served more as a niche tool used for complex chiral separations. Within the last decade, however, supercritical fluid chromatography has started gaining broader momentum in labs. This growth is due, in part, to improvements to the technology along with an increasing focus on green chemistry. As a leader in HPLC and SFC chiral separations since 1972, Regis has witnessed this shift firsthand.
SFC combines the benefits of HPLC and gas chromatography into a single process. Gas chromatography is both diffusive and has low viscosity, but its use is limited to volatile compounds. SFC offers both of those qualities, yet is not as limited in its analysis of compounds.
SFC: A Greener & Less Expensive Technology
Non-profit organizations such as the Green Chemistry Group (launched in 2007) actively promote SFC and environmentally friendly chemical research and development.  While HPLC is a popular and reliable technology, it has a few disadvantages. Most notably, it frequently employs organic solvents that are both flammable and toxic, like hexane for normal phase and acetonitrile for reversed-phase separations. In SFC, environmentally friendly and inexpensive CO2, derived as a by-product of processes used in other industries, is the major mobile phase component.  In most SFC applications, it combined with alcohol, which serves as a strong solvent and has lower toxicity than the common HPLC solvents mentioned above. And since CO2 evaporates at the end of the process, the amount of liquid waste is significantly reduced.  This allows for savings both in the upfront solvent costs and in the waste disposal stage.
SFC has been especially important in preparative scale work. These separations, aimed at the collection of large quantities of purified material, can require large volumes of mobile phase solvents.  In Biotechnique's article about the "greening" of chromatography, Christopher Welch, Executive Director at Indiana Consortium for Analytical Science and Engineering, is quoted: "Greener equals cheaper in preparatory chromatography."
A Faster, More Efficient Technology
Supercritical fluid chromatography is also recognized as being a faster alternative to HPLC.  Since supercritical fluids have lower viscosities and higher diffusivities than liquid mobile phases, separations can be performed at much higher flow rates without sacrificing efficiency or resolution.  This has benefits for throughput at both the analytical and preparative scales.
According to the Biotechnique article, SFC has had an especially noticeable impact on speed in smaller scale preparative purifications of new drug candidate libraries. In the article, Welch says that "If purified by SFC, the collected fractions would contain 75%–90% less solvent, most likely highly volatile methanol, allowing researchers to deliver the dry, purified compound within a half-hour."
SFC also offers the advantage of working with a broad range of detectors.  Like gas chromatography (GC), it can be coupled to flame ionization for nearly universal detection of all compounds containing C-H bonds.  It can also be used with UV, mass spectrometry, IR, and other schemes.  These options greatly expand SFC's versatility.
SFC Use Is On the Rise
Supercritical fluid chromatography has many clear advantages over high-performance liquid chromatography (HPLC), most notably that it is cheaper, greener and faster. Companies across the globe representing a range of industries are recognizing these benefits – including the CBD industry. At the same time, the technology continues to improve.
These traits, combined with the increasing push to make chemistry greener, ensures that SFC use will rise. At Regis, we are excited about this growth and will keep innovating in the field with an expanding range of chromatographic stationary phases. Our CELERIS™ achiral phases are specially designed for supercritical fluid chromatography applications and span a range of selectivity options.  We are committed to being a part of the green chemistry movement and advocating for the cleaner, more efficient process of supercritical fluid chromatography.
Additional Resources