Particle size reduction techniques such as micronization are an essential aspect of pharmaceutical manufacturing operations – and their importance continues to grow.
Micronization and other particle reduction techniques are a mainstay in addressing poor drug solubility. Once an exception rather than a rule, most new drug compounds today are highly insoluble. Reducing the size of particles increases the dissolution rate which improves bioavailability, and hence efficacy.
Micronization has become the go-to strategy to deal with poorly soluble compounds.
Since it is an inexpensive means of achieving increased bioavailability during efficacy trials, many small companies with limited budgets will micronize poorly soluble APIs. In some cases, it is far more practical than spending significant capital on formulation R&D at an early stage.
Challenges with Particle Size Reduction and Drug Compounds
Micronization generally is not without its risks. Changing a compound's particle size can change a drug's properties (e.g., surface area and porosity), altering performance characteristics, stability and downstream processability. Manufacturing techniques must be carefully chosen to avoid impacts on safety or efficacy.
Targeting Not Just Size, But the Size Distribution of Particles
When considering a drug compound's target particle size, it is important to ascertain both the ideal physical size of each particle as well as the tightness of the distribution of those particles (particle size distribution, or PSD).  For example, drug compounds often require a particle size range of 2-20 microns, with a very narrow distribution to minimize both fines and oversized particles.
Selecting the Right Particle Size Reduction Technique
There are a wide range of particle size reduction techniques available to the pharma industry, but when the altered drug property issues discussed above come into play (and they often do), the options narrow considerably.
One technique we frequently employ is wet mill micronization, which is tailor-made for those compounds vulnerable to the impacts of processing.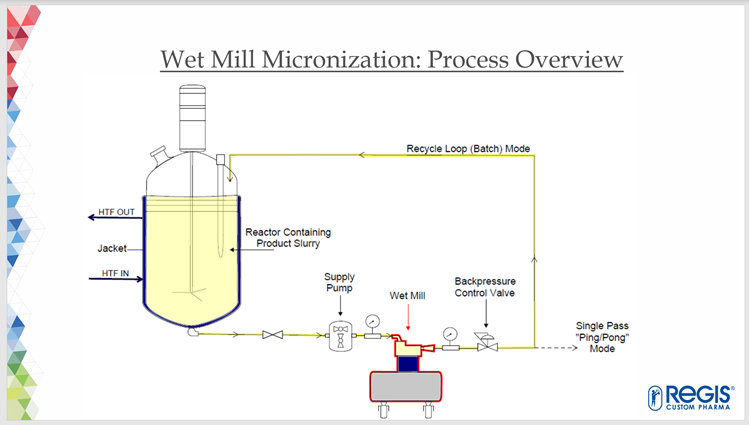 Advantages of Wet Mill Micronization
Wet-milling is a method of reducing the particle size of an API in suspension. It can readily achieve particle sizes (10-15 microns of mean volume) near to those of jet-mill micronization – without many of the disadvantages. Some of the advantages of wet-milling are:
Protects Temperature Sensitive Compounds
Wet-milling is an ideal choice for sensitive materials. All milling causes heat at the point of contact. In the wet mill, the particles are in a liquid which provides a heat sink. Because the liquid has much more heat capacity than the solid, the liquid slurry dissipates heat from the mill, resulting in lower operating temperatures.
Avoid Changes in Polymorphic Form
Wet-milling avoids the disadvantages of dry-micronization. Dry-micronization generally introduces disorder into the milled crystalline API, typically in the formation of amorphous content which can have unfavorable changes in the API physicochemical properties including stability, flow, solubility, dissolution, and other properties. Dry-micronization may also result in a change of the polymorphic form.
Little or No Yield Loss
Many milling technologies, such as jet mill micronization, have a yield loss factor – which can typically be 10% or higher. Because the wet mill is a closed system that is constantly 'flushed' with the liquid phase, material losses are negligible.
Better Batch-to-Batch Consistency & Easier Handling
Wet-milling typically yields superior batch homogeneity and batch-to-batch consistency versus other techniques. It also does not require special containment for potent compound handling since materials are suspended in an appropriate solvent. The closed loop system separates operators from any potential energized powders and protects the product.
Wet-Milling at Regis
At Regis, wet-milling is performed as a 'unit operation' in the same location as the synthesis. After wet-milling in our suites, and subsequent drying, the product is submitted to QC for full release.
Want to learn more? Contact us to discuss your drug solubility or micronization challenges or check out this video on Wet Milling at Regis.