In the United States, a rare disease is defined as one that affects less than 200,000 patients. Today there are approximately 7,000 known rare diseases affecting more than 30 million Americans.
Between 1973 and 1983, there were fewer than ten drugs on the market that treated rare diseases. In 1983 the U.S. passed the Orphan Drug Act, which incentivized companies to create products for rare diseases.
This has led to the development and marketing of more than 600 drugs and biologics for rare diseases. In 2019, orphan drug revenue topped $127 billion.
Orphan Drugs and CDMOs
Those numbers will continue to rise, as will the need for Contract Development and Manufacturing Organizations (CDMOs) with orphan drug expertise.
Orphan drugs may not require large volume manufacturing like many other drugs, but they do require a certain level of skill and quality.
While many CDMOs can handle the development of an orphan drug project, many do not end up on board for the entire process. That's why it's critical that an orphan drug project is matched with a right-sized partner.
In some cases, the CDMO may lack the necessary expertise when it comes to commercialization. The bigger issue, however, is business related. In many cases, the client – and the maximum potential commercial drug volumes – are not sufficiently attractive for the CDMO once development work has been completed.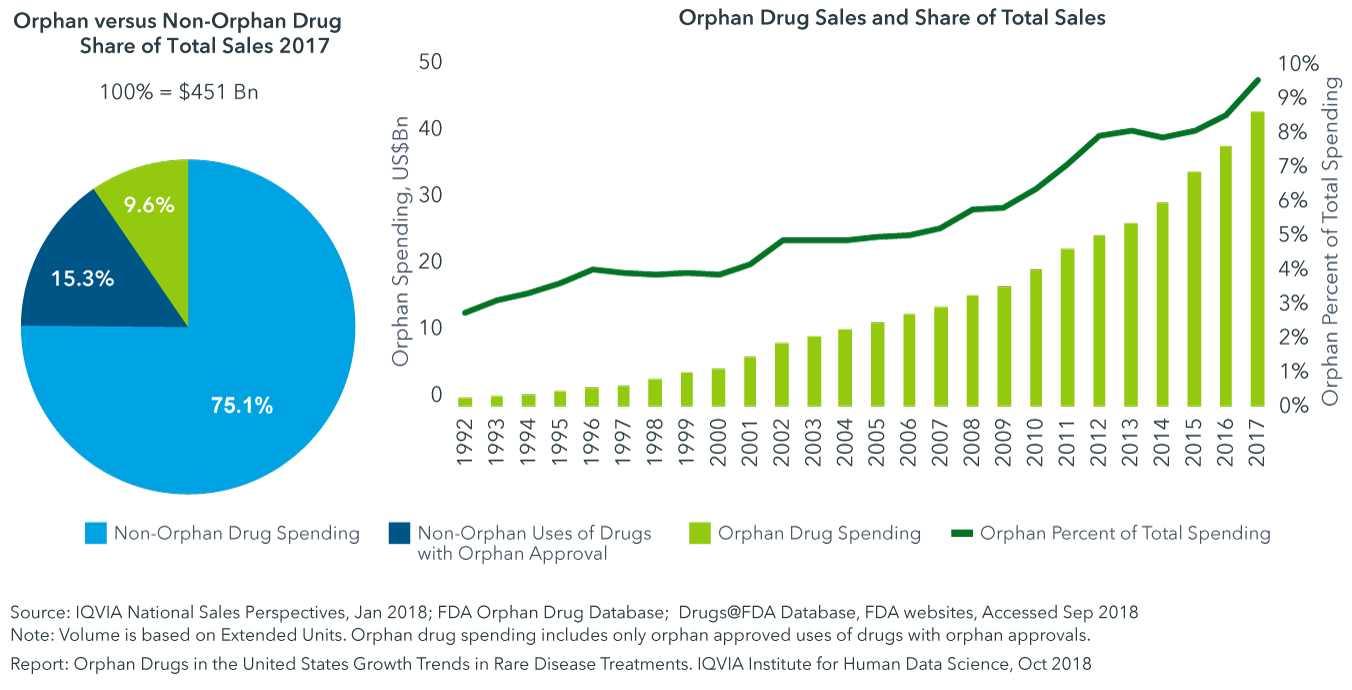 Whatever the reason, the client may be left to find a new CDMO – frequently without enough time to adequately vet the new partner. This is not an ideal situation given the shorter timelines unique to the orphan drug designation.
Choosing the Right Contract Development and Manufacturing Organization Partner
So, how can an orphan drug company ensure they find the right CDMO that will work with them from development through commercialization?
Here are the 4 criteria orphan drug companies should consider in selecting a CDMO:
Fit for Size and Scale
The most important thing is to find a company that fits the size and scale of the project, so it's mutually attractive from an economic perspective. When size and scale do not align, you run the risk of a short-term partnership. When size and scale do align, you build a mutually beneficial partnership.Some larger CDMOs are only looking for large-scale projects. If you start with a larger CDMO, you may find it difficult to compete with larger projects for service and reactor capacity. This is what happened to a late-stage CNS orphan drug client that came to Regis last year. The drug sponsor had worked with a larger CDMO on development and scale-up. But when the contract firm lost its appetite for what would be low commercial volumes, they cut the customer lose. The large scale CDMO even referred the project to Regis, knowing that we are particularly skilled at commercializing at that scale. You will save time and money with a long-term CDMO that aligns with your long-term needs.
Experienced at All Stages – From IND to NDA.
Given how different the regulatory process is for launching orphan drugs, it's critical to find a CDMO with experience developing and commercializing orphan drugs. While a company may market itself as a one-stop-shop, it may not actually have in-depth experience with validation and supporting a commercial product. While the Orphan Drug designation grants Sponsors an abbreviated regulatory pathway, there are no short cuts in cGMP. Many smaller scale CDMOs may have interest in smaller volume projects, but most of them focus on the earlier stages. If you start with a CDMO partner that focuses only on IND-enabling and early phase projects, you could find yourself needing to transfer the project to a more experienced CDMO that knows how to deliver an NDA-ready, CMC package."We've seen many clients come to Regis upon realizing their needs were no longer being met with their current CDMO. In the case of another CNS orphan drug client, it wasn't until Phase 2b that they realized they had outgrown their CDMO. While the company worked at the right scale, they simply didn't have the necessary late-stage experience. Since this lack of regulatory experience could hinder progress, the client switched to Regis after learning about our commercial expertise and capabilities."Again, switching CDMOs leads to transfer and revalidation, which translates to lost time and higher cost.
Agility
Part of ensuring that long-term fit is finding a CDMO that is willing to be flexible to your project's needs. CDMOs need to be agile. One possible issue is that CDMOs may have a particular way of doing things and are not willing to budge. This can be problematic when economics demand alternative validation and batch strategies, meaning CDMOs must be flexible. Shortened or customized timelines may require alternative validation approaches (e.g., prospective or concurrent validation), so the CDMO must be able to adapt validation protocols and realign resources accordingly.Look for a company that understands what you are trying to do and is willing to create a partnership tailored to your needs. For example, the CDMO should know what to effectively design, monitor, evaluate and document through protocols to ensure your product remains in a state of control so that products may be released while validation efforts are still ongoing.
Quality Regulatory Record
Regardless of whether the drug is orphan or not, it needs to be approved before it can go to market.  One critical step in the approval process is the pre-approval inspection, or PAI. cGMP compliance issues can put the brakes on your timeline, require costly remediations and damage your reputation. On the other hand, CDMOs with established reputations in good standing with the FDA can accelerate approval, which may help get products to market faster.Most regulatory authorities prioritize inspections based on risk. In fact, regulators such as the FDA don't always require PAIs before market approval. Factors that influence this decision are compliance history from previous inspections, whether the CDMO has been inspected for products of the same product class, field surveillance data, and other factors related to the firm's history and relationship with regulators.Regis has a long-standing relationship with the FDA and an excellent reputation when it comes to cGMP.  With more than ten years of clean regulatory inspections (no 483 / NAI) and having already successfully completed numerous PAIs for drug substance manufacturing, Regis meets many of these criteria. While this doesn't guarantee anything, choosing a partner with a quality reputation that you can trust just makes sense. Why risk your reputation?

When you're in the orphan drug space, you will need to have a contract manufacturing partner with mutual interests who can handle the development, the scale-up, and the commercialization while being flexible to your project's unique needs. Selecting a CDMO with proven experience in all of these areas means you won't have to worry about the next step.
CDMOs which possess both the scale-up and commercial expertise in the orphan drug space – and share a mutual economic interest with the client at those scales – are a rarity. These factors have been key drivers for Regis' reputation as a vital partner in the orphan drug space.
Learn more about how Regis Technologies can help successfully bring your Orphan and Fast Track project through development and to market.