Introduction
Welcome to our three-part blog series that closely examines process development strategies to deliver robust manufacturing processes. In part one of the series, we discuss the role of Process Chemistry during the drug development cycle.  We also explain how Process Chemistry ensures the development of a safe, consistent, and robust chemical process, which is imperative.
What is Process Chemistry?
As mentioned above, Process Chemistry is responsible for ensuring the development of a safe, consistent, and robust chemical process.  It plays an important role in the successful development of APIs, which is crucial in getting new drugs from beginning stages to market. At Regis Technologies Inc., our team is highly experienced in the production of APIs and we typically begin each client relationship by scaling their API. This allows us to begin tox studies so we can continue building our relationship to  FDA approval and commercialization.
The Roles of a Process Chemist During the Drug Development Life Cycle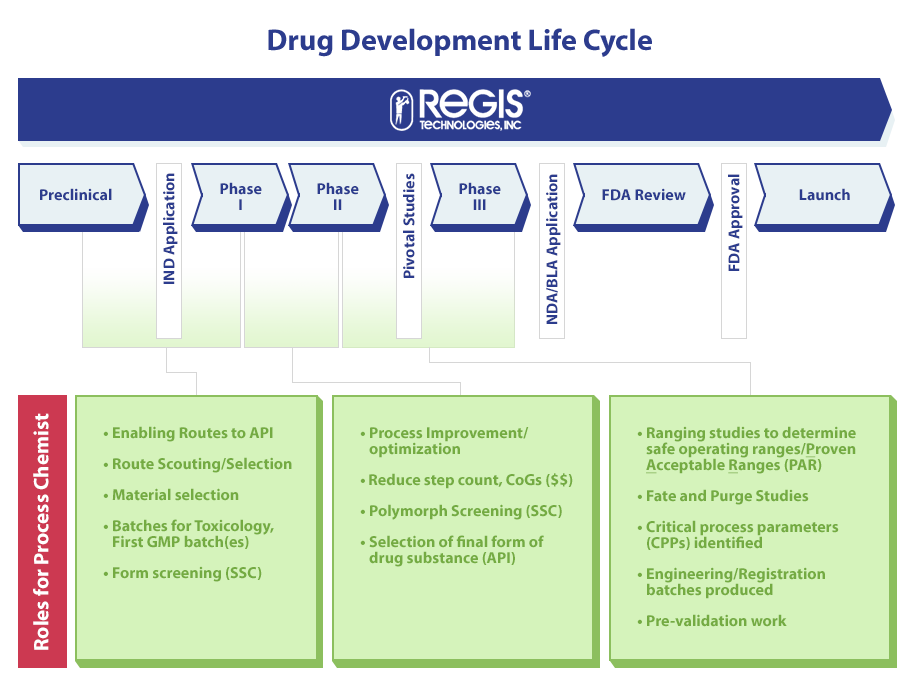 The drug development life cycle consists of multiple phases, and each phase plays an essential role during the drug development process. The drug development life cycle typically consists of six different phases, including Preclinical, Phase 1, Phase 2, Phase 3, FDA Review, and then Launch.
During each of these phases, a Process Chemist has many roles that are considered to be crucial to the success of long-term drug development. Below are the typical roles a Process Chemist will have from the Pre-Clinical Phase all the way to the FDA Review and Launch:
Preclinical to Phase 1

Enabling Routes to API
Material Selection
Route Scouting/Selection
Form Screening and Selection  (SSC)
Batches For Toxicology, First GMP Batch(es)
Phase 2 to Phase 3

Process Improvement/Optimization
Reduce Step Count
Polymorph Screening (SSC)
Selection of Final Form of Drug Substance (API)
FDA Review

Conduct Studies to Determine Safe Operating Ranges
CPPs Identified
Fate and Purge Studies
Engineering and Registration Batches Produced
Pre-Validation Work
Some important milestones during the drug development life cycle include:
Between Preclinical and Phase 1: An IND Application is Submitted
Between Phase 2 and Phase 3: Pivotal Studies Take Place
Between Phase 3 and FDA Review: An NDA/BLA Application is Submitted
Between FDA Review and Launch: FDA Approval Takes Place
Why is Early Solid State Chemistry Work So Important in Process Chemistry?

Identifying the appropriate solid-state form is part of the early Solid State Chemistry (SSC) outcome and a critical component of Process Chemistry since minimizing changes in the solid-state form of the API will benefit formulation development by delivering consistent API. SSC studies the functional relationships between synthesis, properties, structures, and performance of solid phase materials.
Most crystalline APIs exist as polymorphs and have different physicochemical properties. If the API has ionizable groups, then the API could exist as a salt depending on the required solubility for biological activity. These different physicochemical properties of the API can affect the drug product's physical and chemical stability, bioavailability, and dissolution. Determining whether an API exhibits polymorphism could help avoid future problems.
Another reason early SSC work is essential in Process Chemistry is it can help reduce both cost and time to market, which can make a substantial difference. Early SSC work can help identify the most thermodynamically stable polymorph, allowing Process Chemists to have more accurate information. This means that new drugs can typically be accelerated into clinical trials because all the appropriate information for an IND application was thoughtfully gathered early on in the process.
Conclusion
Thank you for reading part one of our three-part series.  In part two, we will cover Process Development in detail.  Please continue to check our blog page for the latest updates or follow our company page on LinkedIn for more insider news.
If you are interested in working with Regis Technologies Inc. or want to learn more about how our Process Chemists can help your company bring a new drug to market, please contact us. A member from our team would welcome the opportunity to learn more about your company and share how our team of experts can be of value.