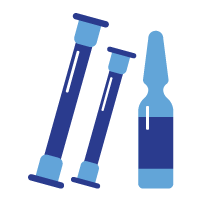 Regis Chromatography
Regis Technologies has been a recognized manufacturer of innovative consumables for the separation scientist since 1966. Our products included packed columns in sizes from analytical to preparative, bulk media for chiral and achiral separations, and specialty columns and reagents. New for 2019, Regis now offers an improved line of immobilized and coated polysaccharide chiral columns at an affordable price. We are the exclusive manufacturer of Pirkle-Type chiral stationary phases (CSPs) for analytical to preparative scale separations, including the immensely popular Whelk-O® 1 phase, and we offer free chiral screenings to identify the best column for each separation. Shop online and learn more about our columns for LC and SFC, innovative IAM HPLC columns for rapid biomimetic screening of drug-membrane affinity, and our complete line of specialty reagents.
Chromatography Columns
Specialty Reagents
Technical Resources
Regis Chromatography employs a dedicated applications scientist to help solve your separation issues. Dr. Ed Franklin has over ten years of experience in chromatography research that he applies to creating HPLC and SFC methods with Regis' line of chromatography products. Download his most recent posters, application notes, and more here or contact us at techsupport@registech.com for troubleshooting support. View more resources.
Find your Local Distributor
Regis Chromatography products are sold in over 80 countries worldwide. Find your local partner for fast delivery and dedicated service. Search our distributor directory.
Need Help Ordering?
Request a personalized quote from our chromatography sales team.
Call our customer service team direct at +1.847.967.6000 x526.
Email orders to our customer support team.
Email questions to our technical support team.
Download our Catalog
Click to open a pdf version of our Chromatography Catalog here. For the most up to date information, browse our eCommerce store.