The History and Development of Regis Technologies
Over the past 65 years, Regis has continuously invested in better serving our life science customers.  Below are key dates in our history that document not only our organization's evolution, but our ever-growing capabilities: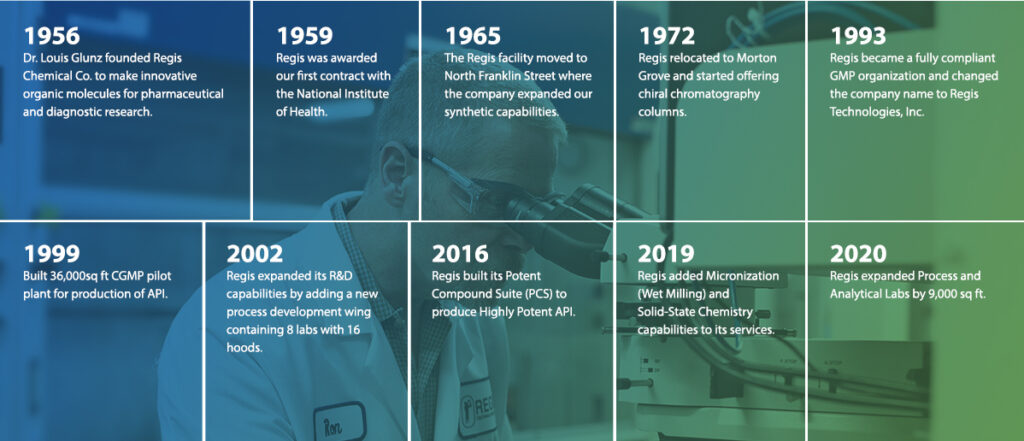 Development, Production, and Finishing at the Regis Facility
The 97,000 ft2, two-story facility houses the entire process, from receipt of raw materials to storage of the APIs. The structure is divided into areas for operations, warehousing, utilities, laboratories, and offices. All areas of the facility have been designed to ensure an orderly, logical progression of product from the receipt and storage of raw materials through all phases of the production process.
Space for our operations can be broken down into three main areas: Development, Production, and Finishing. Each area contains its own specialized instrumentation that helps in expediting APIs from development through manufacturing.

Synthetic Labs: Our process chemists develop scalable, safe, and cost-effective processes.

Analytical Laboratories: Our full-service analytical group focuses on method development and validation, fate and purge studies, impurity identification and characterization, and more.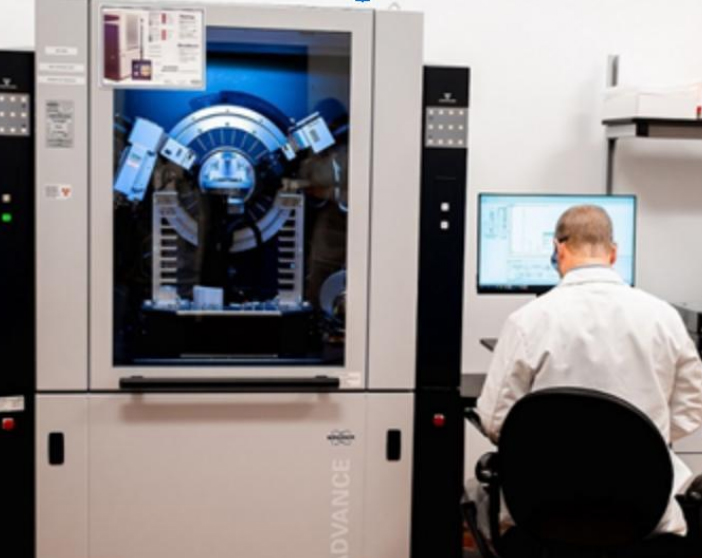 Solid State Chemistry Lab: Our top-of-the-line equipment provides cocrystal, salt, selection activities, and polymorph screening to provide crystallization processes throughout each phase of development.

The general production area is 20,000 ft2 for the purpose of manufacturing non sterile drug substances. The general facility is equipped with 14 discrete manufacturing suites qualified for CGMP manufacturing. The materials of construction in the production rooms include walls of painted cinder block, epoxy painted concrete floors and ceilings, or ceilings with suspended, sealed clean room tiles.
The supply air is filtered through MERV 13 filters providing an environment equivalent to ISO class 8.  Production room air pressure is maintained negative with respect to the corridor outside the room for solvent containment purposes during open processing steps. Continuously operating exhaust trunks and/or fume hoods in the rooms capture fumes and exhaust the room air outside the building through scrubbers to maintain the room air pressure differential.
5L – 63L Kilo-Scale Labs: Regis has 5 kilo-suite spaces that can be equipped with 5L – 63L jacketed glass reactors with temperature ranges of -40°C to 180°C.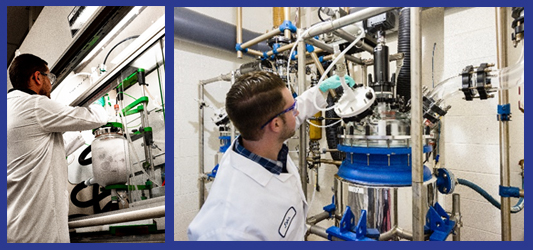 100-2000L Gallon Reactor Suites: Regis has 9 suites that feature insulated glass-lined steel jacketed bodies of various sizes. Each has reflux and stripping condensers, and has a temperature range of -20°C to 120°C. Rooms are designed with adequate space to configure with portable equipment to support a project's needs.

Cryogenic Reactor Suite: Our 150-gallon Hastelloy reactor has a range of -80°C to 100°C and is used for site-specific additions, enantioselective, lithiations, and other low-temperature reactions.
Isolation via Centrifugation or Contained Filter Dryer: Our four GL Filtration contained filter dryers have an Agitated Nutsche filter with a glove box. The contained filter dryers let us run compounds in a closed-system process train. Alternatively, larger suites contain centrifuges made of 316 types of stainless steel.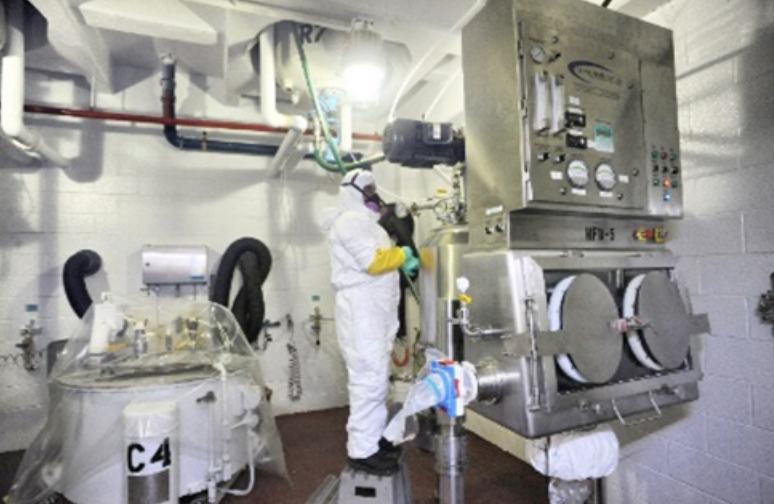 Potent Compound Suite: Regis has a separate facility for the manufacturing of potent compounds. This facility is designed with a building-in-building concept with separate and dedicated HVAC systems with a single pass HEPA filtered air supply and exhaust. The flow of personnel, materials, and equipment moves through gowning, misting, and degowning airlocks. Airlocks are protected through negative cascading pressure. Facility containment performance was tested in use and containment exceeded the target of 50ng/m3.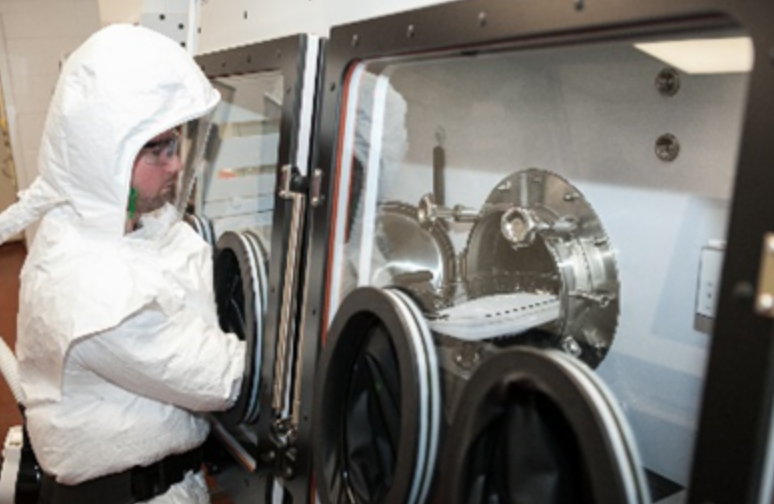 Warehousing, storage, and stability: The temperatures of our refrigerators, freezers, and production equipment are monitored using a data logging system, and our technician chemists manually enter in all critical temperatures into batch records. Access is strictly controlled and temperature zones are closely monitored. Such critical systems have alarms and backup power.
Quality Control Laboratory: Our QC laboratory guarantees quick turnaround times for most of any required analytical work. Quality Control performs release testing of incoming materials, in-process and lot release testing of intermediates, in-process and lot release testing of finished APIs and stability study testing.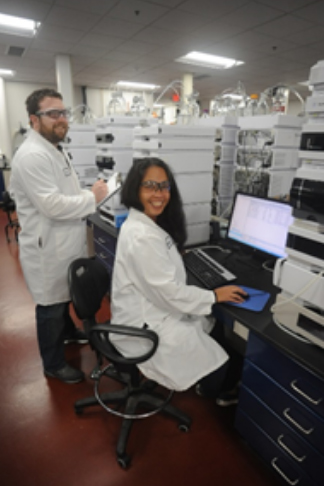 Finishing Area: The hallway and drying rooms in our finishing area are maintained at a positive pressure relative to the facility. Each drying room has its own supply of 99.99% HEPA-filtered, ISO class 8 equivalent. All access to our finishing area is monitored and controlled.
Drying Equipment: We have three sizes of United-McGill and Stokes shelf dryers in a class 100,000 drying/finishing area.
Lyophilizer: We have one finishing room that contains a Virtis 6 liter lyophilizer and a 45-liter capacity lyophilizer.
Milling (Wetmil/Fitzwell): Helps achieve particle sizes of 10-20 microns and has little to no yield loss. Regis also has Fitzmills for traditional milling.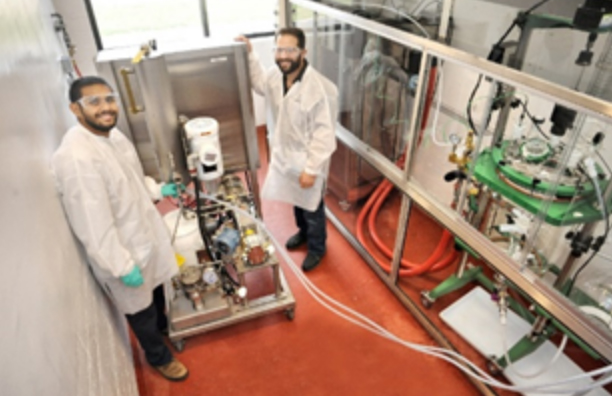 Regis Facility Capabilities and Resources
Regis Technologies is a single, US-based facility where everything is performed onsite.  Our work is never outsourced. We have the technology and capabilities to offer full service to our customers from development through the manufacturing of customer active pharmaceutical ingredients
Our attentive, focused, and knowledgeable team enjoys working with  and supporting our customers.  When customers choose to partner with Regis, they can expect the benefits of working with a large contract development and manufacturing organization (CDMO) while receiving consistent communication and complete control during each phase of their project[LG1] .
Regis Portfolio of Pharmaceutical Services
Regis offers a diverse portfolio of  pharmaceutical services for the development and manufacturing of small-molecule APIs. We take pride in solving complex problems and developing scalable chemical processes. Our team is composed of experts in process chemistry, analytical, and solid state chemistry who are ready to support your development product.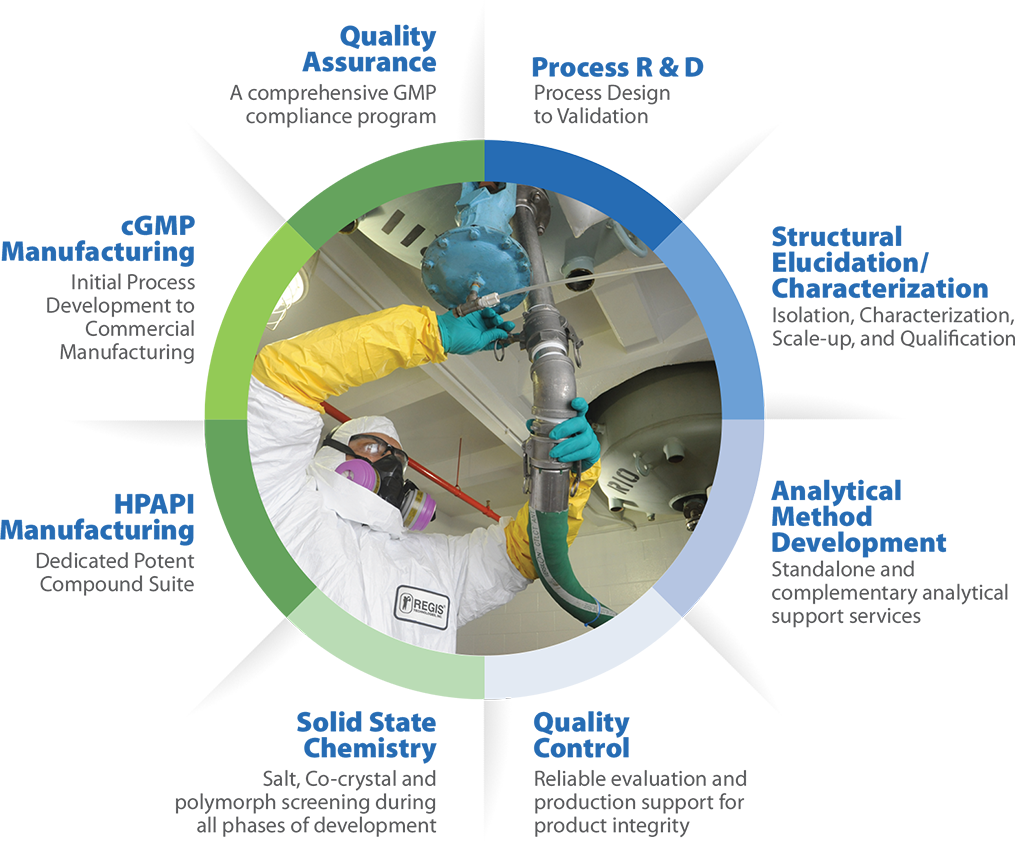 Some of the custom pharma services Regis offers include:
Conclusion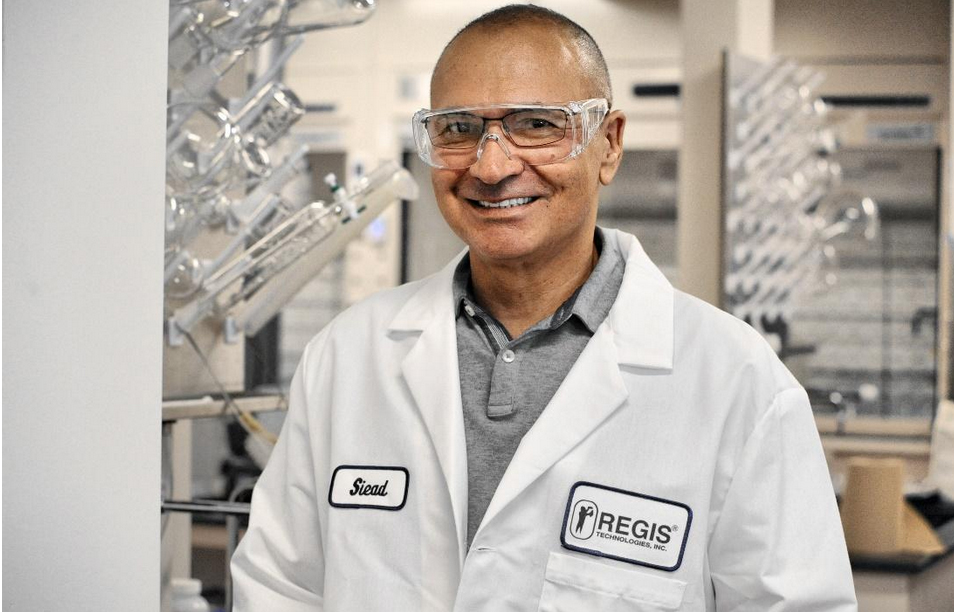 Since 1956, Regis has invested in facilities and services to meet the needs of our customers. We take great pride in our work and enjoy helping our clients take their small development API projects from development to commercialization at our domestic facility.
If you want to learn more about our custom pharmaceutical development services, please contact us. A member from our team would be happy to discuss your needs and explore if they match with our offerings.