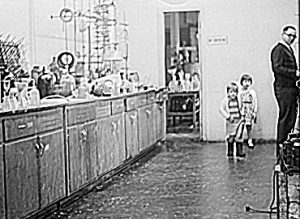 The Family Business Center at Loyola University Chicago's Quinlan School of Business recently named Regis Technologies, Inc., the winner of the 2016 Illinois Family Business of the Year Award in the medium category (50-250 employees). Regis Technologies is a privately owned family-run business that has become a world-class leader in pharmaceutical manufacturing, expediting drugs to market and improving lives around the world. The award now in its 23rd year recognizes exceptional Illinois-based family businesses that demonstrate a strong commitment to business development, family and community.
For 60 years, Regis Technologies has developed a strong background in synthetic, organic chemistry to better serve the health science industry. A team of over 80 chemists and professionals with expertise in synthesis, analytical and separation services work to advance active pharmaceutical ingredients (API) from initial process development and scale-up development to final validation and commercial manufacturing. Regis operates out of a 36,000 square foot fully GMP compliant facility in Morton Grove, Illinois.
"We're honored to receive the Loyola University Family Business Center Award," shares founder and chairman, Dr. Louis J. Glunz III. "We are proud to serve as a valuable partner to drug discovery firms and help with the development of new drugs, many of which have become game changers for patients around the world," adds Glunz.
The award program recognizes Illinois family businesses that have demonstrated a positive family business linkage, multi-generational family business involvement, contributions to industry and community and innovative business practices and strategies. Since opening their doors in 1956, Regis has developed innovative processes, services and products earning a global reputation for excellence in chromatography products and capabilities to synthesize complex molecules for the pharmaceutical industry.
Regis continues to expand its laboratory facilities to better serve emerging drug discovery companies. Many drug development projects help people with serious conditions including many rare or neglected diseases. A notable drug candidate was an early AIDS drug, Viracept, which has saved the lives of AIDS patients. Regis also worked with Rush University Medical Center on the development of the first oral multiple sclerosis (MS) drug designed to improve walking in MS patients.
"As a member of the next generation of the family, we plan to push our legacy forward. We continue to invest in people and facilities that will keep Regis at a world class standard," adds Louis Glunz IV, president and second-generation member of the family business.
Regis Technologies will be honored alongside fellow 2016 Illinois Family Business of the Year Award winners at a Gala in November.